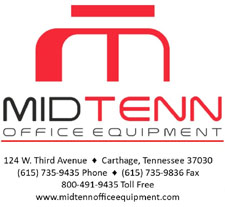 Try our new online ordering website by clicking here.



Customer Login | Contact Us




Mid-Tennessee Office Equipment
has been a locally owned business since 1968. We provide quality office supplies, copiers, fax machines, and office furniture in the Middle Tennessee area. We also handle a variety of printing services from imprinted checks, receipts and medical forms to stamps, nameplates, signs and more.


MTOE is an authorized Sharp Dealer and provides sales and service for copiers and fax machines. We also offer service on many other brand copiers, faxes , calculators, and business equipment.

We have qualified salesmen and service technicians to help with any questions you may have regarding supplies or equipment.